Walk-A-Thon Information & Registration
On October 26, 2019 we will gather at the Honeygo Run Park in Perry Hall, Maryland for our first annual walk-a-thon in Hero's memory.
Hero was the first dog ambassador for local pet charity, Thankful Paws. He recenlty died of Cushing's Disease, and now we are hosting an annual fundraiser to help find a cure for this disease. Join us!
All proceeds will be sent to the Washington State University College of Veterinary Medicine to further Cushing's Disease Research.
On the day of the walk-a-thon, Thankful Paws will be hosting a pet food drive for our clients. You can bring new or gently used pet beds, coats, and toys too! Pet food must be new and unopened. See our list of most needed items on our website at thankfulpaws.org/waystohelp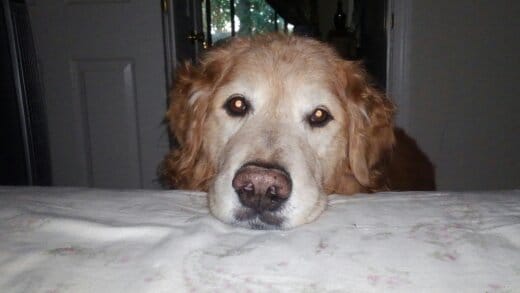 Event Schedule:
8:30 - 9:00 Last Minute Registration (no t-shirts)
9:00 - 9:30 Walk Around The Park
9:30 - 10:00 Snacks & Refreshments
10:00 - 10:30 Pet Memorial (If you would like your pet to be remembered at our event, please email us at bark@thankfulpaws.org to include your information. Must be received no later than close of business on Wednesday, October 23rd)
10:30 - 11:00 Raffle & Prize Drawings
11:00 End of Event
Hero was the inspiration for and co-founder of Thankful Paws. It was through his consistent expression of love and compassion that touched all that knew him. He passed away on March 19, 2019 from a long battle with Cushing's disease, he was almost twelve years old.
We have partnered with the country's leading research university, the Washington State University College of Veterinary Medicine to help raise money for research for this horrible disease.  They are available to answer your questions, and their contact information is below.
To make a donation in Hero's honor you can mail a check, payable to Washington State University, with Hero on the memo line and mail it to the address below or you can click this link and be forwarded to the school's online donation page. This link is pre-set so your donation goes to the Veterinary School for the Small Animal Pituitary Fund. (Small animal means, dogs and cats, and Cushing's Disease is a Pituitary disease. This is the best place for our donations!)  Once you select an amount to donate, when you click on the next page to enter in your payment, one of the questions will be, if you want this gift to be in memory of someone. Please just click there and type in "HERO" and they will know that you were inspired to give because of him.
Christie in development can be reached at (206) 219-2402 office or by email at ccotterill@wsu.edu
Dr. Tina can be reached at (509) 335-9420 or by email at tina.owen@wsu.edu
To mail checks please send to:
(please remember to put HERO in the memo line on your check)
Washington State University
College of Veterinary Medicine
Attn: Christie Cotterill
901 Fifth Avenue
Suite 2900
Seattle, WA 98164